About the 'Design Tribe'
The DesignTribe is an small creative design studio based in Galway City Centre. We have been successfully working on various web, print and multimedia design projects since we setup in Galway in 2004. We are passionate about what we do and we hope this shows in the work we produce. We offer a range of graphic and web design services, and specialise in designing high-quality, user-friendly websites that meet our clients' needs and objectives.
About Us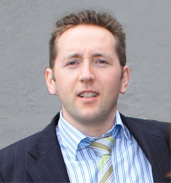 The DesignTribe is run by Ivan O'Grady. Since finishing this Advance Diploma in 'Design for Visual Communication' in the Dublin Institute of Technology, Mountjoy Square (1993 - 1997), Ivan had been working in a number of Web Design Agencies and Software Development Houses in Dublin up to 2004. The Design Tribe was setup in 2004 when Ivan returned to live in Galway.
Ivan's educational qualifications include:
An Advanced Diploma (B.Sc.) in Design (Visual Communications) 1997
from DIT (Dublin Institute of Technology), Mountjoy Square, Dublin .
A Masters (MA) in 'Design in Digital Media' 2002
from DIT (Dublin Institute of Technology),Temple Bar, Dublin.
When time allows Ivan indulges in his passion for the 'great outdoors' that the West Coast of Ireland has to offer.
Talk to Us About Your Project!!
We 'eat, drink and sleep' design and all things internet related. Whether we are designing websites, designing logos or developing multimedia, we always place a huge emphasis on producing original work, thus helping our clients differentiate themselves from their competitors.
While a lot of our clients are based in Galway, we can design for industry wherever it may be - the Internet knows no geography so whether you are in Limerick, Clare, Shannon, Mayo or New York we can meet your graphic or website design needs.
Our in-house design services include:
Website design & maintenance
Interface design
Logo design & corporate identity (Business Cards, Letterheads etc.)
Flash animation - Rich media banner adverts
Whatever your design and communication needs are, contact us to find out how we can help you achieve them.